Where is My File? Online Document Search Software Seattle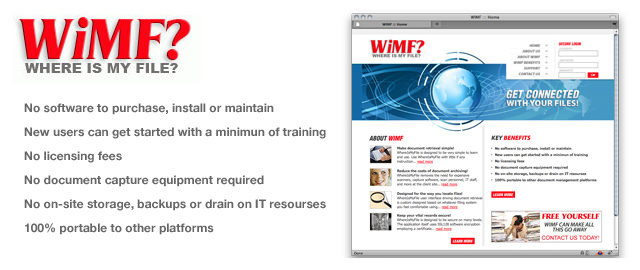 Online Document Search & Retrieval Program
Based on the success of The Bloodhound and the availability of the Internet, clients began asking if we could port over the simplicity and functions of Bloodhound document management and search software to an online web based version.
Whereismyfile.ca in Canada, and Whereismyfile.com in the US was conceived and constructed to provide for simple search and retrieval of images and documents through a secured web portal.
As with The Bloodhound, directed meta data and/or wild card searches are performed in a very intuitive user interface, and successful searches are presented in a simply configured grid.
After selecting and actioning the correct target document, WIMF recalls the image or document and engages the correct viewer based on document file type. Currently, PDF and Tiff are the tow most popular document types.
WIMF is slightly different from The Bloodhound in that the meta data and images are hosted on our servers. We work with our clients to determine the amount of storage space and bandwidth required to effectively host and transmit images via the Internet.
WIMF has proven to be a reliable and inexpensive alternative to expensive EDMS for our clients requiring simple search and retrieval functionality, without the costs of hosting and maintaining servers, back ups and the like at their location.
Like The Bloodhound, there are no licensing fees for the software.