Meet The Staff: Joe Bryant
Comments Off

on Meet The Staff: Joe Bryant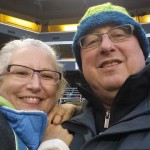 Meet Joe Bryant at Micro Com Systems (Seattle)
We would like to introduce you to Joe Bryant, the general manager for Micro Com Systems (Seattle).  Joe started in the document imaging business back in 1975 as a courier for Cascade Microfilm in Seattle.  As the years went by Joe learned many facets of the business including copy flo printing, onsite filming and darkroom printing before moving to equipment repair.  After working for a couple of years helping clients with their printers and microfilm readers he moved upstairs (literally) into equipment and services sales.
Cascade Microfilm was purchased by Ford Graphics which opened up a new type of business for Joe to learn; reprographic services.   After two years of reprographics Joe realized he missed the microfilm business so he left Ford to work in sales at Microfilm Service Company.  A number of years later he, along with some other MSC employees, left to begin a startup company named American Microfilm.  Two years and 100 years of experience later, he moved on to Alpha Information Management.
It was at Alpha that Joe began to learn about digital services and how they could spawn a revolution in the document management industry.  Leaving sales, Joe transitioned to digital services support, assisting the sales staff and clients with moving toward this new technology.
In 2000 an opportunity arose to purchase the assets of Alpha Information so Joe contacted his good friends Craig Hollingum and John Ford with Micro Com Systems Ltd. suggesting that this would be a good business opportunity for MCS.  They agreed and tagged Joe to be the general manager for the Seattle branch of MCS.
Joe is a staunch Seattle Sounders supporter having season tickets with his wife Debbie since 2009.  In his spare time he likes to watch foreign movies, cook and make homemade wine.  Joe and Debbie also love to travel whenever possible.  He is the proud father of two adult daughters who still live in the Seattle area and a dog named Chavo.
Contact MCS Seattle for Document Scanning Services
Next time you are rummaging through the storage closet and you come across a roll of old drawings, think about preserving the history.  It's easy and inexpensive to save these drawings before time takes its toll.
Allow MCS Seattle to assist you with your document digitization services. For all your scanning services in Seattle, please contact MCS today! Call us at 206-248-3191.